I have an obsession. This is my second time to New York in 2013. I know this may seem somewhat indulgent but when I came over back in March it was all in the name of family. As I explained then, my Melbourne-based brother and sister-in-law were travelling to NY – for the first time ever – to celebrate her birthday. Sure we couldn't let them come this side of the equator, to one of the best cities in the world, and not join them now could we?
None of us had too big a list of what we wanted to do; mostly we were interested in taking in the city and hanging out together. This was achieved daily; we shared an East Village pad, complete with roof garden and booze supply so we all felt very much at home in no time. In fact, we decided that we could all live here quite happily (ok, the more cocktails consumed the better the idea of five adults living together seemed but the sentiment remained the same even when sober). The only thing I was certain that I wanted to do was visit some Vintage stores in Brooklyn as all my previous visits were pretty Manhattan-centric. For weeks I dreamt of local flea markets, independent stores and less picked-over offerings than the city might have. My hopes for Brooklyn Vintage were big and the family was happy to come along for the ride.
On arrival to Williamsburg we all marveled at the pretty houses, admired the beautifully presented shop fronts and my brother shared his disdain for hipsters. Within a short amount of time my sister-in-law and I had found a wonderful little Vintage store called Awoke and I had fallen in love with two items; one was a blue and green tartan print 70s day dress and then other a crazy floral print 60s turtleneck dress. As I tried them on I listened in on the conversation between my sister-in-law and her fellow-Aussie shop assistant as they bonded over nationality, shared experiences and how on earth one gets a Visa for the US (the latter being my sister-in-law's immediate query to all ex-pats encountered on my behalf). It also transpired that the owner of the shop was Aussie so all in all the connection was instant and suitably satisfying. I only got involved to show off my beautiful dresses, discuss the merits of each and let everyone in the shop know to where I would were them. After a lovely visit however, I decided that I must not make impulse purchases due to this being the first shop we had visited. I could always come back later.
As days like these tend to unfold, we walked until our legs hurt, got happily lost on a number of occasions and all decided at once it was time to return to our pad for cocktail o'clock. Awoke seemed miles away and I had lost my bearings so I quietly resigned myself to not becoming the latest owner of the two dresses. I thought about them often after that day and I chastised myself for not remembering my number 1 rule of Vintage shopping: DO impulse buy! For if you don't, the likelihood is that someone else shall be wearing those threads by the next day. I promised myself I'd be back to the store one day for sure and kept their card in my notebook as a reminder.
The holiday came and went and so did April, May, June and July. Soon it was my birthday and I received a big, exciting looking package from Melbourne… a 'not surprising surprise'. A surprise because I was not expecting it but not too surprising as this was from my brother and sister-in-law, two of the most ridiculously generous and thoughtful souls you could be lucky enough to have as family. They spoil in every way and on a constant basis. In fact, when we were together in our apartment that time in NY, out of the blue they appeared from their room singing happy birthday and holding a beautiful newspaper-wrapped stack of pressies … for me! Inside were the most incredible books on fashion history and Vintage style; they had sourced them in Melbourne and kept for me all this time. I reckon those two were the only people whose bags were heavier coming in to this city than leaving.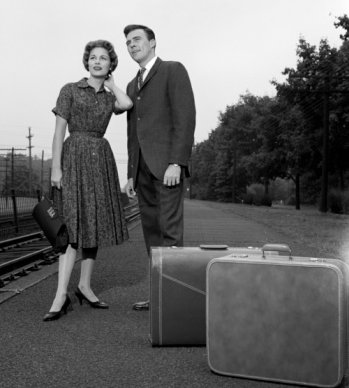 On my actual birthday and back in Ireland I excitedly opened the package and unwrapped parcel number one. As I gently tore away the wrapping I felt confused and slightly punch drunk as I spotted a familiar fabric. Instantly I was transported back to Williamsburg, twirling in a blue and green tartan day dress. I couldn't believe it! I quickly unwrapped parcel number two and there it was, that crazy 60s print in all its glory. I was speechless and babbling all at once. Where on earth…? When on earth…? How on earth…? I wracked my brains to think about what times there were that we weren't together and I couldn't recall one. Somehow though, they managed to get back to the store, buy the two dresses, smuggle them in to the house and then bring them back to Melbourne before sending to Ireland in time for my birthday…. surely two of the most well travelled dresses in the world! I get compliments on the dresses all the time and I really believe that its not just because they are so lovely in design but also the fact that I'm smiling like a  Cheshire cat every time I'm in them,  thinking of how they came to be mine.
On my first visit to Bedford Ave during this trip I went for coffee in Verb Café in honour of my Brooklyn pal Sasha (currently residing in Ireland – more of her recommendations to come soon). I popped in next door to the MiniMart and found fantastic quirky shops, one of which had Vintage dresses on a rail in front of the door. As I made my way in to the store it dawned on me – I was in Awoke Vintage! I had come in the back door without a clue where I was. I somewhat manically babbled to the lovely assistant about how this was fate and I simply had to meet the owner for an interview. Within a couple of days the lovely Liz and I found ourselves back in Verb having Vintage chats and sharing our delight at the politeness of New Yorkers.
After coming to the US from Perth on a road trip three years ago, Liz found herself in Brooklyn having not only the usual daydream of what it might be to live in the place she was visiting but actually looking into legalities and realities. The energy of the surroundings had her hooked and she just knew she needed to make things happen. Having worked in music festivals for years, she also split her time as a Vintage trader at various markets, ultimately setting up a monthly one herself. By the time she took off on her American holiday, she was running a successful Vintage store in Perth with no ambitions to move on from the city where she was making her mark. Amazing what a few days in Brooklyn will do for you!
Although the tales of where Vintage originated and who first wore it appeals to her as the next Vintage trader, it was always the ethical benefits that she connected with – the idea breathing new life into the old. Having a mum that is a 'bit of a hippy' meant that she was instilled with the believe that they should recycle what they can and think of fashion with its environmental consequences (as well as respecting where their food comes from and walking around ants on the sidewalk!); thrifting was just in her blood. It was also a great way for a girl from a small town to interpret the trends of the time without major expense. This philosophy still rings true today with Awoke taking nods from current trends when sourcing their Vintage collection. Although there are great opportunities to source the clothes in the US, Liz continues to also buy from Japan due to the quality of their pieces and the neatness of their sizes. The respect that the Japanese have for their garments, and the care they give them through hand washing and gentle wear, means that they arrive to the store in almost perfect condition. Some with the added sweetness of having their names embroidered into the back in Japanese characters. Some Mamas' habits are just universal I guess…
Originally called Awoke on a Whale Heart, Liz shortened it to Awoke for convenience but also believed it to be representative of what she does with clothes: awakens a new life in them. Not only will you find adorable Vintage dresses along with a fairly edgy collection of other clothes but the store also produce their own leather jackets made from recycled leather. The physical space was also somewhat awoken by Liz; having been an internet Café that it is unlikely saw a lick of a cloth for a few years, she set about refurbishing the cement shell pretty much by herself. With some help from a Carpenter friend, they fitted out the entire store. How did she learn to hang a door or put down a floor? You Tube my friends… where modern conveniences meet Vintage passions.
Although a long way from home, Liz found support and encouragement from local business owners, particularly nearby coffee shop Toby's Estate, run by fellow Aussies (of course). They gave her invaluable advice about what's what in the world of US business, as well as providing coffee for the journey – both as important as each other I imagine. The perks of the location have also ensured there are constant reminders of why it was all worthwhile. The Williamsburg store has afforded Liz the opportunity to contribute costume for my new obsession Orange is the New Black as well as my old one The Americans. (And I thought having your own Vintage store in Brooklyn was dream enough). She also gets to enjoy seeing Winona Ryder, Michelle Williams and lots of other local-living stylish actresses wearing her hand-picked pieces. Although initially speechless and somewhat overwhelmed when in the presence of Hollywood royalty, she likes to think she's cooled things down enough to now at least feign blasé. In saying that, the day I called in she had just been caught trying to take a photo of Bruce Willis to Snapchat her mum and dress it up as an email…
I've returned to the store on a couple of occasions since our chat and, although I'm pretty sure Liz thinks she has a stalker in me, I've gotten a lovely welcome every time. Of course I'm pretty sentimental but it feels like somewhere I want to be as it combines my favourite things – Vintage, family, surprises and chance. On Halloween I returned to observe the adorable Brooklyn tradition of trick-or-treaters visiting businesses rather than homes. The place was swarming with superheroes, zoo animals, Disney characters and everything in between. Hell there may have been a celeb in their shopping but they too would have been told 'good costume' and provided with Tootsie Rolls for the effort. During my chat with Liz she told me that she remembered the store assistant that had conspired with my sister-in-law had told Liz herself all about the secret squirrel activities that had gone on behind my back that day and how at the time they were both so happy that the dresses were going to find their way to me after all … no one realising the route they'd be taking to find me.
Awoke Vintage is located at 132 North 5th St Brooklyn , NY 11211
xXx
Todays addition to the Playlist is Bill Callahan 'Sycamore' … from the album Woke On A Whaleheart (pretty self-explanatory so).