"The fashion world changes all the time. You can even see the approaching revolution in clothes. You can see and feel everything in clothes."  Diana Vreeland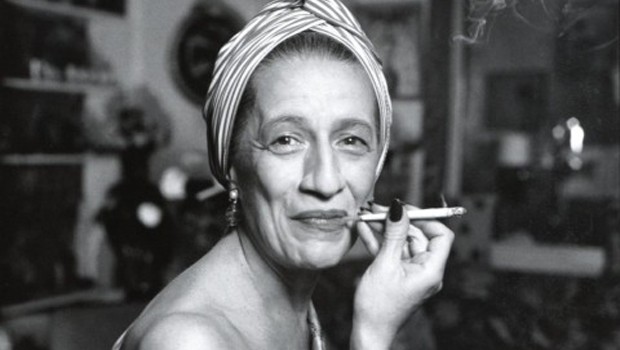 Should you do one thing this week, I suggest you make it your business to view 'The Eye Has To Travel' and allow yourself be captivated and transported by the fantastical character that was Diana Vreeland.
Narrated through a number of archival interviews with the lady herself as well as opinions from those people that worked or lived with her, this film is a fascinating and humorous (mostly due to her own soundbites) celebration of the original fashion editor's work and life. Born in Paris in 1903 Vreeland remained apologetically in love with the city and compared everything else to it. She insists that it's this geographical consequence of her birth, of an American mother and English father, that initiated the love of all things fashion as one simply couldn't be born there without clothing mattering to you for the rest of your days. The best thing about London according to Vreeland? Why Paris of course!
Her childhood is peppered with self-told stories of encounters with Daighilev, Buffalo Bill and George V, all undoubtedly embellished for the benefit of the story. It is this exaggerative tendency which enhances her charm and most likely fed the astounding vision. Such talent is evident throughout the film via her work in Harper's Bazaar, American Vogue and in later years The Metropolitan Art Museum, the fortune of which she turned completely when she began showcasing fashion as art. Her fashion magazines became windows to the world for the reader; gone were the collections of clothes-horse stills and featured instead were stories of beauty and aspiration with her choice of both location and model being questioned on a regular basis – the former due to her apparent disregard for budgets, the latter due to her refusal to conform. She herself established what was beautiful by featuring those faces and bodies that she found interesting and starring them in the most incredibly imaginative settings. 'Push peoples faults and make it the most beautiful thing about them' she instructed her photographers. Now Barbara Streisand's nose was attractive, Mick Jagger's lips fascinating.
Perhaps this reinvention of beauty was a reaction to her own experiences, reflected in the film by comments from many of the fashion world's contributors when considering Vreeland's personal appearance. She was no beauty we were told, very plain, not attractive. I was incredulous to their observations, as I viewed her face with captivation every time she appeared on screen. A wonderfully unique and mesmerizing piece of art in itself, her eyes enhance every story told with their smiling twinkle and her lips moved in such a delightful manner, reflecting the juiciness of that particular statement.  Her long drawn out speech, vowels exaggerated in every word, made me lean forward in my chair for fear I might miss any single syllable. I do believe her face to be one of the most enthralling I ever observed. This fascination for the viewer is heightened of course, with her ability to turn every statement in to a golden quotation.
This incredible charisma creates a documentary that transcends personal tastes, as was reflective of the eclectic audience that absorbed every interview, quotation, image piece of art and snippet of music featured as much as any fashion follower seated around them at the screening.
Vreeland was a mother and wife, yes, but a fashion editor above all else. Her sons describe her eccentricities matter of factly. She herself became a celebrity along with those icons that she championed through her mediums and with whom she shared her time. When she liked someone she 'adored' them 'simply adoooored' them. Her evenings in Studio 54 were documented through photography and celebrated through her own telling. She spent time with Cher, Twiggy and Warhol regularly and seemed to hold these memories in somewhat higher regard than those times with her family. She was an utterly complex character and one which her sons seem to accept now for exactly that. Her complexities and frivolities combine happily though, and make for a very likable personality.
I could wax lyrical of this piece of film for pages however I fear I would ruin it for the viewer, the temptation to relive all is so great. I will leave the details of her adventures to her own telling. She's so much better with words anyway …
The Eye Has To Travel is showing in Dublin's The Lighthouse Cinema now.