And so it's here: CHRISTMAS WEEK! Exciiiiiiiited!!
Although there has been the usual frantic build up and I've spent my time feeling slightly frazzled and rewriting the Christmas pressie list once an hour, I do believe I can honestly say (fingers crossed for fear I'm wrong but feeling pretty smug all the same) I'm ready. I have the tree up, prosecco in, pressies wrapped, my girly dinner over (the sure sign it's Christmas), 85% recovered from said dinner and have toasted Chrismas at least 30 times already (29 of those probably from same dinner). Now it's time to get down to real business … the Christmas pressie list FOR ME! So if you haven't gotten around to sourcing my Vintage Globe-Trotter luggage yet, worry not … there's lots more to choose from that you can source nearby and guarantee I have the best Christmas EVER.
As I'm the perennial hobby starter, I've had my eye on a couple of courses that will ensure I keep out of devilment and find my way through the rubbishness of January with somewhat more purpose than usual.
So once again the lovely Re-dress folk offer quite the assortment of courses and, having considered my needs, lamented the lack of new dates for shoe upcycling, and thought of what will appeal on a freezing winter evening, I decided that the Ultimate Upcycling 6 week course is the one for me . I love the idea that it will cover an introduction to the history and case studies of upcycling – always a sucker for a bit of old background. Of course it will also teach the skills needed to transform a piece of my choice into a different finished garment – a wonderful way to procure a new piece of clothing without relying on the post-festive Credit Card lean.  I must say that I did also like the idea of the one day Fashion Skills Crash Course but having found myself as the accompanying photograph, just felt it might be slightly weird to sign up for it. Don't ask because I don't know.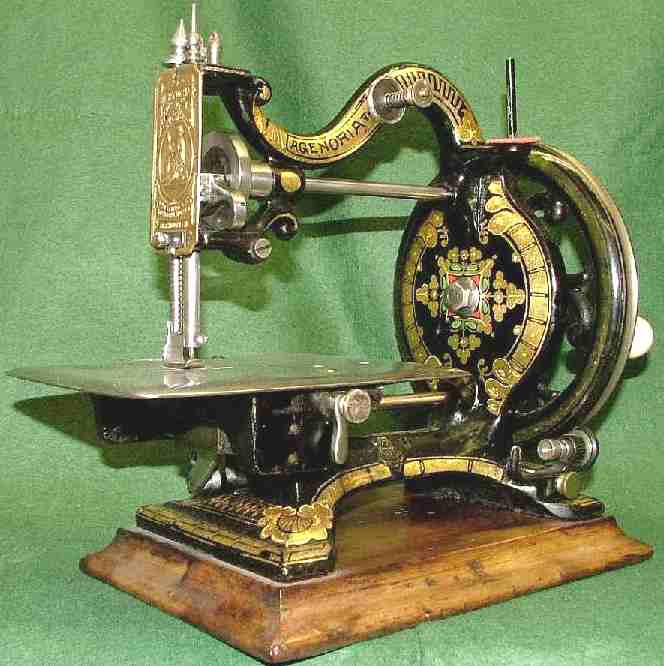 If you'd like to go a more traditional route and buy me jewellery instead, well, who am I to argue? The Loft Market in Powerscourt has always been one of my most adored places to shop and I LOVE it at Christmas. In particular, an enduring favourite designer of mine is Beatriz Palacios. Over the years I've bought headpieces, bags and jewellery from the Spanish designer. She's lovely, her designs are lovely, the experience is lovely! Although she's no longer in Dublin all the time she still has her stall, thus making the likes of me very happy.
On Saturday night I bumped into the lady herself at a party and although I immediately remembered her from our chats when she would be working at The Loft, I didn't expect her to remember me. In fact when she starting telling me she knew that I bought from her in the past I thought she was just trying to spread some Christmas cheer and make me feel unforgettable. Actually I was wearing a hat I bought from her years ago. That'll do it so. Of course she recognised her one-off creation that has been my go-to winter woolly (if slightly airy due to it being crochet) and which everyone always compliments. In fact for those people that only ever meet me in winter, I'm pretty sure they think it's a permanent fixture on the red gruaige. Anyhoo, now that I've more time this week, and because the Loft is going to be open every day until Christmas (big smiles) I shall be coveting the fab animal necklaces from Beatriz's AW collection and hoping to receive the Zebra chain thank you very much. I'll be happy and it's much cheaper than what I almost asked for … which is to see the Zebra's for real … on safari … in Tanzania. Think of how much you'll be saving.
And finally, reverting to my 7 year old self, with even worse hair than I have now, what I really want for Christmas is… a bike! I want a shiny new bike with a bell and a basket that just cries out to be taken on adventures/ solving mysteries. Truth is I have a bike which is absolutely fine and works very well and is perfect for 'exercise'. It's just that it doesn't say 'sense of occasion' as much as I'd like it to. It doesn't inspire me if you will. So I've been going behind my bike's back; I've been looking at images of other bikes online. I haven't actually gone to see them, I haven't even called their contact numbers… it's just harmless right? But I have been looking, of yes I have, and there's one in particular that I just can't get out of my head. Ok so I don't usually have any deliveries to do, but what with launching a select Vintage store on my website in the new year (yippee), I may have to get to the Post Office to collect / deliver the goodies. As I'm absolutely positive it will be dry every time I need to do this particular errand, this bike becomes less 'luxury' and more 'essential'. Ladies and gentlemen, I give you: The Delivery Bike.
A gorgeous rothar from those wonderful Bear Bicycles people that I simply can't take my eyes off and at the same time have no idea how I might learn to control it. But like the first flushes of any new love … it's the former that's most important. The rest will come eventually surely? Suddenly I see myself also delivering sausages, whilst dogs run along side me trying to steal them as they hang out the side. And I have a hat; not my crocheted one but a flat cap. Yes clearly I still need more sleep following the weekend that was but let me just say that, should you manage to get it to me by Sunday, I promise to deliver you to Christmas mass on time and without incident. As long as you can balance on the box of course.
So there you have it, shopping locally and most importantly, making my Christmas 🙂 I can't wait for all three. You are so generous.
Don't worry, I'll act surprised…
xXx